EDIT: This post was written for version 7.5 of AVG which is no longer available. The process is different for version 8.5 and there is no longer a GUI for AVG on Linux.
AVG Technologies, makers of the popular AVG Antivirus for Windows also makes a free version for Linux. Installing AVG Antivirus in Ubuntu Linux is fairly easy.
Download the .deb installation package from AVG's website. You can do this from the terminal with:
wget http://download.avg.com/filedir/inst/avg75fld-r51-a1243.i386.deb
The dependencies should already be resolved for basic functionality, but you may want to make sure that you have the python, python-gtk2, and python-glade2 packages installed first.
Once the download is complete, double click on the file in your file manager to install it with the Gdebi package installer. Click Install and enter your password when prompted.
Update the license information.
sudo /opt/grisoft/avggui/bin/avggui_update_licinfo.sh
Enter your name and company information at the terminal prompts.
Add your userid to the avg group.
sudo addgroup userid avg
where userid is your log-in ID. You'll have to log out and back in for the group ID change to take effect.
You can now start AVG from the menu at Applications->Accessories->AVG for Linux Workstation.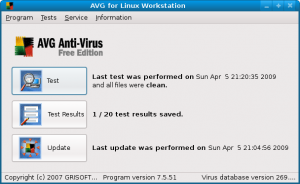 You can now update the virus definitions with the Update button.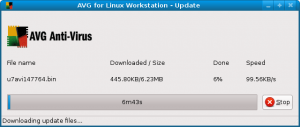 After the update is complete you can select an area of your computer to scan using the Test button.
General preferences can be modified under the AVG menu Service->Program settings.
For more information on advanced configuration options, check the AVG User Manual.