I've written before how to restore the Mark All Upgrades button to Synaptic in Linux Mint. Things have changed in the latest version: Linux Mint 17 Qiana. The previous technique no longer works because the Mint team is providing their own version of Synaptic rather than using the package from the Ubuntu repositories. The following will show how to restore the Mark All Upgrades button to Synaptic in Linux Mint 17.
Edit: 16-Sep-2014
It turns out that the Mark All Upgrades button was disappearing from the toolbar after a reboot, even though it remained on the Edit menu. We'll have to use a portion of the old tutorial to prevent that.
Open a terminal window and enter the following:
echo /usr/share/synaptic/gtkbuilder/window_main.ui | sudo tee -a /etc/linuxmint/adjustments/05-synaptic.preserve
This will create a file that prevents Linux Mint from over-writing the Synaptic menu.
End Edit
Downgrade Synaptic
Open the Synaptic Package Manager and search by name to find the synaptic package. At the time of this writing, it's currently at version 0.81.2-4. Highlight synaptic and go to the menu to select Package -> Force Version... In the dialog pop-up, select the version from trusty-updates and then click Force Version.

This will tell Synaptic to downgrade the package. Click the Apply button to downgrade Synaptic. Immediately after applying the downgrade you may notice that the synaptic package is showing that there is an available upgrade. You don't want this upgrade to happen, so make sure the synaptic package is highlighted, then go to the menu and click Package -> Lock Version.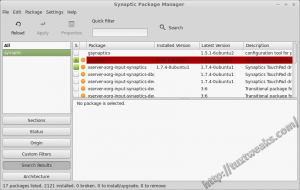 Close the Synaptic Package Manager now and reopen it. You should now see that the Mark All Upgrades button has been restored.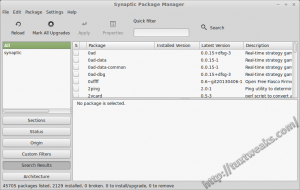 Fixing apt-get and mintUpdate
If you only update your system using Synaptic, the instructions above will have you covered. But if you happen to use  apt-get, then it will override the settings in Synaptic and update the synaptic package to the one from the Mint repository as you can see in the following screen shots.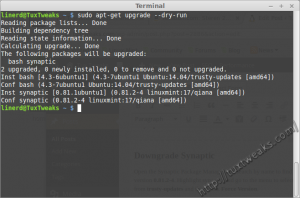 mintUpdate will also show the package, but it won't actually upgrade it. It will be annoying though because the update indicator in the system tray will always show updates available.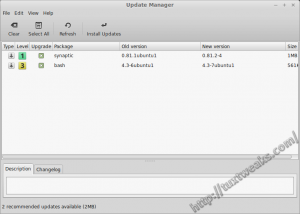 You can fix this by setting a hold on the package with apt. Open a terminal window and enter the following command:
sudo apt-mark hold synaptic
You can use any of the following 3 commands to verify the hold status.
sudo apt-mark showhold
dpkg --get-selections synaptic
dpkg -l synaptic
Now you can upgrade with apt-get or mintUpdate without upgrading Synaptic.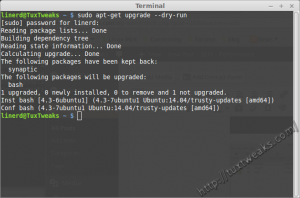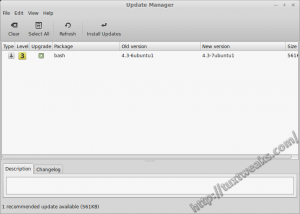 So there you have it. You now have Mark All Upgrades in Synaptic and can now do full system updates of Linux Mint 17 Qiana using the Synaptic Package Manager.
Copyright 2014, TuxTweaks.com. Content originally appeared at https://tuxtweaks.com/2014/09/restore-mark-all-upgrades-in-synaptic-linux-mint-17