Linux Mint is the most popular Ubuntu based Linux distribution. Some would argue that it's even more popular than Ubuntu itself. Because of its Ubuntu base, Linux Mint shares a lot of the same great features with its parent distribution while offering a more traditional desktop design. One big feature that Linux Mint is missing though is the ability to create a Live USB stick with persistent storage. In this tutorial I'll show how to create a Linux Mint Persistent Live USB drive using UNetbootin and GParted.

What you'll need
You'll need a few things before you get started. I'll be using an installation of Linux Mint 13 to create the Live USB in this tutorial, so it will be easiest to follow along if you're running Linux Mint, Ubuntu, or something similar. While it should be possible to do this from Windows since both UNetbootin and GParted have Windows versions available, I'll only be covering how to do this from Linux. You could use a standard Linux Mint Live CD or USB as your build system if you want.
Second, you'll need the ISO image of Linux Mint. UNetbootin should be able to download it for you, but I prefer to just download it separately ahead of time. I'll be using the 32 bit version of Linux Mint 16, MATE Edition for mine, but other versions should work just as well.
Download Linux Mint 16 ISO - torrent links:
Third, you'll need to have UNetbootin installed on your Linux system. You should be able to find it in your distro's repositories. If you're running Linux Mint or Ubuntu, you should be able to install it with:
sudo apt-get install unetbootin
Or, just click: install UNetbootin
And finally, you'll need a USB flash drive or SD card that's at least 2 GB in size. The larger your USB stick is, the more room you'll have for persistent storage.
Preparing the flash drive
Now that we have everything we need, it's time to get started.
The first task is to create a couple of partitions on the flash drive.
WARNING: This process will erase all the data on your flash drive. Make sure any files you need are backed up.
To avoid confusion, you may want to unplug any other USB drives from your system. Now plug in the flash drive you want to use for your persistent USB stick and open up GParted. If GParted is not already installed on your system, open up a terminal window and install it with:

sudo apt-get install gparted
Select your USB drive from the device drop-down in the upper right corner.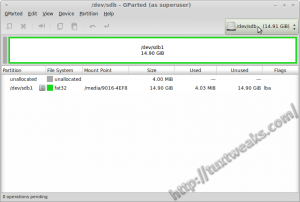 If there are any existing partitions on your drive, right click on them and select Unmount, then right click again and select Delete Partition. Your drive should now be shown with only unallocated space.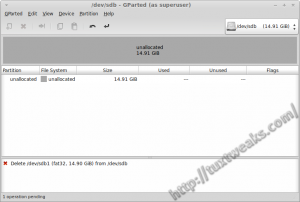 Next, right click on the unpartitioned space and select New. Set the size of the new partition to 1500 MiB, set the File system to fat32 and click Add.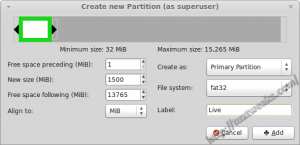 The next step is to create the persistent partition. Right click on the remaining unallocated space and select New. This time choose ext2 as the file system type and set the Label to casper-rw, then click Add.
Now you need to apply the changes to the flash drive. Go to Edit->Apply All Operations.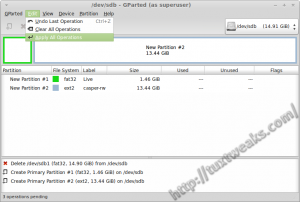 As long as you're sure you picked the correct drive, click Apply at the warning pop-up.
The final task in GParted is to set the boot flag on your boot partition. Right click on the first partition and select Manage Flags. Mark the box next to boot and then click Close.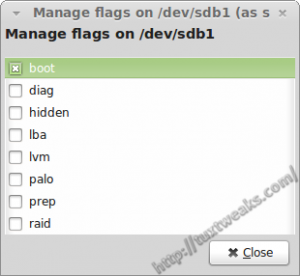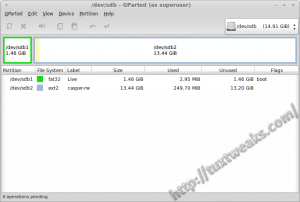 Write the ISO with UNetbootin
Open UNetbootin and select the radio button for Diskimage. Click the "..." button and navigate to Linux Mint ISO that you downloaded previously. Make sure that USB Drive is selected and that first partition of your USB drive is listed as the drive. If you're unsure of your drive letter assignments, use the lsblk command in a terminal to check them.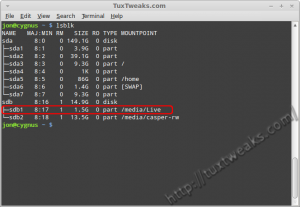 Next, enter 100 in the field labelled "Space used to preserve files across reboots (Ubuntu only):".
When you have the UNetbootin window looking like the image below, click OK to start writing the image to your USB drive.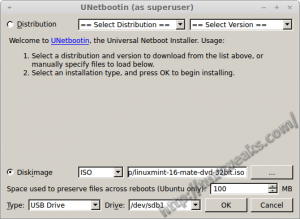 When UNetbootin is done writing the image, DO NOT click the Reboot Now button. Hit Exit instead because we have one more change to make to the USB drive.
Open the boot partition of your Linux Mint Persistent Live USB drive in your file manager. Select the casper-rw file and delete it.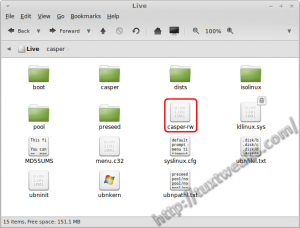 Congratulations! You now have a Linux Mint Persistent Live USB drive. You can now reboot your computer to boot into your USB drive and give it a try.
Here's a picture of my Linux Mint Persistent Live USB running on my netbook.
You can now use your bootable USB to install Linux Mint on another system, edit documents, browse the internet, or whatever you want.
Credit: This post by usbtux on the Linux Mint forums provided the basics of this tutorial.
This content was authored by Linerd and originally appeared on Tux Tweaks at https://tuxtweaks.com/2014/03/create-linux-mint-persistent-live-usb/