Update: 10 October, 2014 - Netflix now works on Linux without any special hacks using the Chrome browser.
There have been many tutorials posted on how to get Netflix working on Linux. Personally I've had limited success using the Pipelight plugins. There's good news for Linux users though. Recent development versions of the Chrome browser from Google include the required DRM code to allow HTML5 video streaming from Netflix. The goal of this tutorial is to provide easy instructions to get Netflix streaming working on Linux Mint 17, Ubuntu 14.04, and Ubuntu 12.04.
Install Chrome Beta
Update: The stable version of Chrome will now work for Netflix. You can download the install file from from here. You can then continue below with the User Agent String.
---
The first step of this process is to install either the beta version or the development version of Google Chrome. In my case, I'm using the beta version. Go to the Chrome Beta download page and click Download Chrome Beta. Select the correct package for  your architecture (32 bit or 64 bit). Click Accept and Install to accept the license agreement and download the installation file.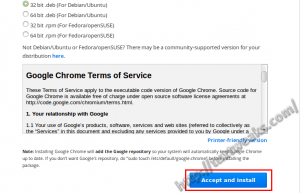 Click OK to open the file with GDebi.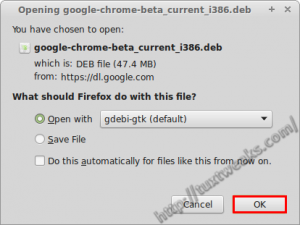 Click Install Package and enter your password if prompted. After a few moments, the package will be installed.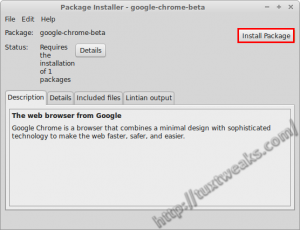 Close the package installer. You should now be able to find a listing for Google Chrome (beta) on your menu.
Add the User Agent Switcher
Launch Chrome Beta, go to the web store and install the User-Agent Switcher extension. Click the +Free button to install the extension to Chrome.
You now need to set a custom user agent string for accessing Netflix. Right click the User-Agent Switcher icon in Chrome and select Options.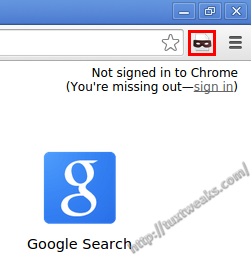 You're going to create a new user agent string.
New User-agent name: Netflix
New User-Agent String: Mozilla/5.0 (Windows NT 6.3; Win64; x64) AppleWebKit/537.36 (KHTML, like Gecko) Chrome/38.0.2114.2 Safari/537.36
Group: Chrome
Append?: Replace
Indicator flag: NFX
Install Required Packages
Update: The required packages have made it into the repositories for Ubuntu 12.04 and 14.04. There is no need to add the PPA show below. If you've already added the below PPA, you can remove it with:
sudo add-apt-repository -r ppa:leonbo/nss
sudo apt-get update
Simply update your system packages and you should get the package updates you need.
---
You also need some upgraded packages from Ubuntu 14.10 in order to play protected content. The easiest way to install these is to add a PPA to your sources. Open a terminal and enter the following:
sudo add-apt-repository ppa:leonbo/nss
sudo apt-get update
sudo apt-get install libnss3 libnss3-1d libnss3-nssdb
This should upgrade 3 packages: libnss3, libnss3-1d, and libnss3-nssdb.
You now have everything you should need to stream Netflix on Linux Mint 17, Ubuntu 14.04, or Ubuntu 12.04.
Streaming Netflix
If you haven't already, shut down Chrome Beta and re-open it. Click the User-Agent Switcher icon and select Chrome -> Netflix as your user agent. Now go to Netflix and log in to your account. If everything went right, you can now use the instant streaming on Netflix. You may need to restart your system in order to get smooth streaming.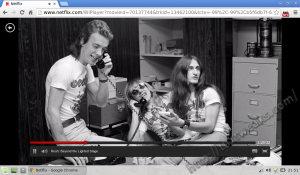 Setting the Default User Agent for Netflix
You may also want to add a setting in User-Agent Switcher so that your custom user agent is always used when you go to Netflix. Right click on the User-Agent Switcher icon and select Options. On the left side of the screen, select Permanent Spoof list. Under Domain enter netflix.com and select Netflix under User-Agent String, then click on Add. Your custom user agent will now be used any time you go to Netflix.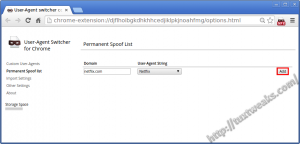 Your success with streaming may vary based on the power of your computer, the speed of your Internet connection, and your chosen quality settings for your Netflix account. I have nice, smooth streaming on my desktop computer with an Intel Core i5 processor. Streaming is a little more sketchy on my netbook with an Intel Atom processor. Streaming definitely works better using the lowest quality setting from Netflix, but obviously the picture isn't the greatest. It's still not up to par with streaming on Windows using Microsoft's Silverlight, but it's a major step in the right direction for streaming on Linux.
How does this technique work for you? Let me know in the comments.
This tutorial originally appeared on Tux Tweaks at https://tuxtweaks.com/2014/08/netflix-linux-mint-17-ubuntu-14-04/. Copyright 2014.