In today's entry, I'm going to show how to edit the main menu in Ubuntu. More generally, this should be valid for anyone running the Gnome Desktop Manager. For this example, I'm going to add a new launcher for Firefox.
The first thing to do is right click (mouse button 3) on the Applications Menu. This brings up a dialog. Select Edit Menu.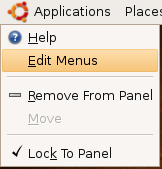 On the left hand side of the Main Menu, select Internet, then click on New Item over on the right hand side. The Create Launcher menu will come up.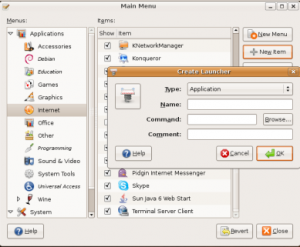 In the Name field, enter Firefox Browser. In the Command field, enter /usr/bin/firefox. The Firefox icon should appear automatically. If it doesn't, click the icon button and enter /usr/share/pixmaps/firefox.png in the path then click OK. (For other applications, most of the system icons are in /usr/share/pixmaps.)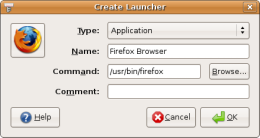 There should now be an entry for Firefox Browser in the Internet Menu. Click Close to exit the Main Menu editor.