If you're looking for how to set up the LX8 with Linux, it's here.
Installing Logitech's Setpoint software was routine.  Unfortunately, this small download, (54.1MB), took more than 5 minutes to download from Logitech's server.  After completing the download, the installation was the typical Windows Installation Wizard procedure.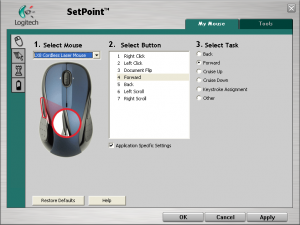 Launching the SetPoint software takes the user to the main configuration screen.  I mentioned previously that I purchased the LX8 to use as both a right and left handed mouse.  When the "Swap Buttons" box is checked, the functions of button 1 and button 2 are switched.  Since the forward and back buttons are on opposite sides of the mouse, it would be nice if the Swap Buttons feature also swapped the side buttons.  I was, however, able to manually switch the functions of the side buttons to give me a true left handed setup.
There are several choices for customizing the buttons as you can see in the picture below.  The default setting for the wheel click is Document Flip.  This is a pretty cool feature that provides a function similar to Windows standard Alt-Tab window switcher.  The drawback, however, is that you give up the standard middle click behavior that certain programs have built in.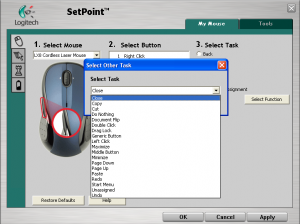 For example, I'm a fan of Firefox's feature to middle click a link to open it in a new tab.  Most CAD and CAE programs have specific uses for the middle mouse button, so if you use one of these or you like to use the middle click function in Firefox, then you will probably want to configure it as Middle Button.
Another cool option for button customization is Cruise Up/Cruise Down.  If you get tired of spinning the scroll wheel, the side buttons can be set to provide virtual scrolling.
So far, the SetPoint software works well.  One minor annoyance: the SetPoint customizations don't go into effect until you see it's icon in the system tray, so as I impatiently click away on the desktop while Windows continues to load drivers, my mouse acts like a righty.