The beta version of Mozilla Firefox 3.5 is out and available for download. The process I'm going to show is to install the beta without removing your current installation. This is just a basic testing setup. If you want to do a true full install, follow the directions in the Ubuntu documentation.
First off, download the appropriate version from Mozilla.
Backup your Firefox profile. Open a terminal window and enter:
cp -R ~/.mozilla ~/.mozilla.backup
Next, cd to the directory where you saved the download, then uncompress it with:
tar xvjf firefox-3.5b4.tar.bz2
Then, move to the new firefox directory.
cd firefox
Now close all of your currently running Firefox windows and enter the following terminal command:
./firefox
You should be up and running the new Firefox 3.5 Beta for Linux.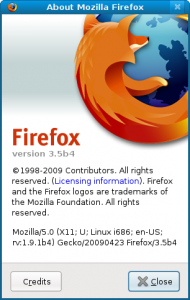 Optionally, you can create a new profile for testing.
./firefox -ProfileManager --no-remote