I've previously shown how to create a bootable USB drive with Ubuntu and FreeDOS. While the technique in that post is educational, there is a much easier way. Use UNetbootin to do the work for you.
Install UNetbootin
You can download UNetbootin from SourceForge, or it may already be available in your Linux distro's repositories. To install it in Ubuntu, open a terminal window and enter
sudo apt-get install unetbootin
Run UNetbootin
Insert your blank USB drive into one of your USB ports first.
You can launch UNetbootin on Ubuntu through the menu at Applications?System Tools?UNetbootin.
You can also launch from the command line with the unetbootin command. You may get prompted to enter your password. UNetbootin should detect your USB drive automatically and select it.
Download and Install FreeDOS
Click the Select Distribution button and choose FreeDOS.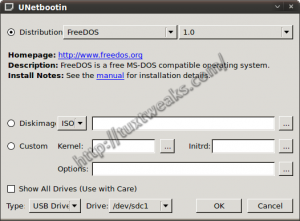 UNetbootin will begin downloading FreeDOS for you and install it to your flash drive.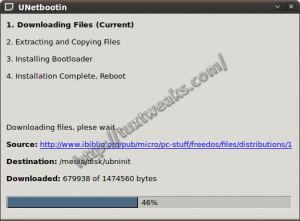 Once the process is complete, you can reboot your computer. Make sure to set your BIOS to boot to USB.