Install video drivers
If required/desired, install hardware specific video drivers (nVidia or ATI). Go to System?Administration?Hardware Drivers and enable the drivers for your video card. You will need to reboot to make this take affect.
Install Flash plugin
Install one of flashplugin-installer, swfdec-mozilla, or mozilla-plugin-gnash.
First enable the multiverse repository. Go to System?Administration?Software Sources. Make sure the check boxes for main, universe, restricted, and multiverse are selected.
While you're in there, select the Other Software tab and enable the partner repository. Now that multiverse is enabled, you can install the Flash plugin.
sudo apt-get install flashplugin-installer
Set up fan control
This is probably not necessary for most people, but if your fans are annoyingly loud, you may be able to set up automatic can control.
Enable multimedia codecs from Medibuntu
To enable the Medibuntu repositories, paste the following four lines into a terminal and hit <Enter>.
sudo wget http://www.medibuntu.org/sources.list.d/$(lsb_release -cs).list --output-document=/etc/apt/sources.list.d/medibuntu.list &&
sudo apt-get -q update &&
sudo apt-get --yes -q --allow-unauthenticated install medibuntu-keyring &&
sudo apt-get -q update
Once the Medibuntu repository is enabled, you can browse the available packages for Karmic and click the links to install through Firefox. Or you can install packages through apt-get. For example,
sudo apt-get install non-free-codecs libdvdcss2 googleearth
Enable the Gnome Configuration Editor menu item
Right click on the main menu and select Edit Menus. Select System Tools on the left side and then check the box next to Configuration Editor.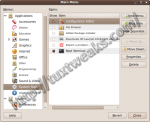 Turn off the annoying Update Manager auto-launch
Open the Configuration Editor by going to Applications?System Tools?Configuration Editor. Expand the apps section on the left side and scroll down to select update-notifier. Uncheck the box for auto_launch.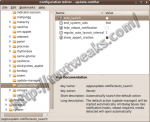 After making this change you will still get the update notifications in the Notification Area.

What other crucial items do you install on a fresh Ubuntu installation? Let me know in the comments.