Ubuntu 10.04 (Lucid Lynx) uses the latest version of the Nautilus file manager (version 2.30.0). If you've been using Ubuntu for a while then you might be accustomed to using location entry in Nautilus.  By default, Nautilus came up with the Button Bar to represent the current location in the file system.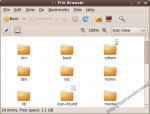 Clicking the pencil icon changed the window to show the Text Location Bar.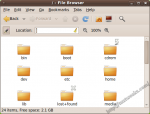 As I already mentioned, Ubuntu Lucid uses Nautilus 2.30.0. Again, in this latest version, Nautilus defaults to using the Button Bar for location.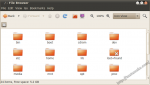 Notice that the little pencil icon is no longer available to switch to Location Entry. Not to worry, the function is still available. There are actually 3 ways to switch to Location Entry.
Hit the [/] key to enter the full path of the directory you want to browse.
Use the Nautilus menu and navigate to Go?Location...
Use the keyboard shortcut [Ctrl]+[L] to enable the Text Location Bar.