I became a father this past June. If you're a regular reader of my site, you've probably noticed my decrease in posting frequency since then. Much of the time that used to be spent tinkering with Linux is now spent changing diapers, buying diapers, feeding my daughter, etc.
Both Pampers and Huggies have rewards programs where you collect codes from the packaging to accumulate points. These points can then be redeemed for free products by registering for the program on their websites. Everything works fine on the Pampers website, but when you try to visit the website for Huggies Enjoy the Ride Rewards program, you are greeted with a page telling you that Linux is not supported.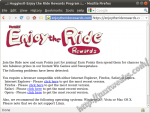 OK, no big deal. Just change the user agent string in Firefox and try again.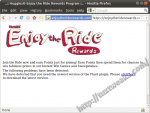 Um, no. The genius web devs decided that they also needed to verify that you have the proper version of Flash installed for your spoofed OS. It looks like the web developers for Kimberly-Clark, makers of Huggies diapers, worked hard to keep us Linux users out.
Well, you can decide what you want to do. This Linux dad is going to buy Pampers products from now on.