I spent some time back in December compiling videos of my daughter for a family DVD. One of the things I wanted to do was to add a small caption to each video clip to document the date of the recording. I ended up using Avidemux and the subtitle video filter to add the captions to the video.
You'll of course need to have Avidemux installed on your system in order to follow this process. Check your distro's repositories.
On my Ubuntu Maverick system I have the following packages:
avidemux
avidemux-common
avidemux-plugins-common
avidemux-plugins-gtk
libavidemux0.
Once you have Avidemux installed on your system you're ready to start. Start Avidemux and open your video file.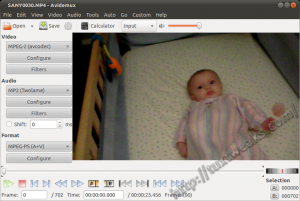 Adding Subtitles
You'll need to create a text file containing your video captions. For my process I chose the SRT video subtitle format. Here's what I used for my .srt file.
1
00:00:00,000 --> 00:00:23,000
December 3, 2010

2
00:00:23,100 --> 00:00:23,200
My video was about 23 seconds long. The second subtitle is blank. It is there only because Avidemux had problems dealing with a .srt file with only a single subtitle. I'm not sure if it's a bug or if it's part of the specification. Anyway, I dealt with it by adding a second empty subtitle.
To add your subtitle caption, go to the Video menu and select Filters.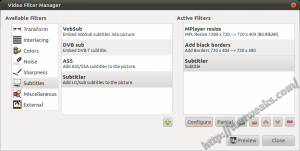 In the Video Filter Manager select the Subtitles category and then click on the Subtitler filter in the second column. Click on the + icon to add  the filter to the Active Filters list. Next, click on Subtitler under the Active Filters list and click on Configure.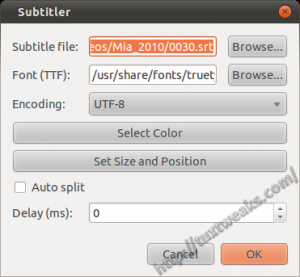 Use the menu to select your .srt subtitle file. Select a specific font if you want and then choose your preferred font encoding. When everything is set, click on OK. You can now close the Video Filter Manager.
You can see what your new video will look like by changing the view from Input to Output.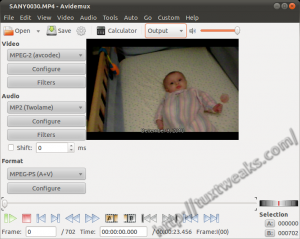 If you haven't already done it, select and configure your output audio and video codecs and select your file container format. When that's all set, click on the Save button to export your new video with captions.