Avast! antivirus offers a free desktop edition for Linux. I've already shown how to install avast! in Windows XP, today I'm going to show how to install the Linux version on Ubuntu. The first step is to go to the avast! website and download the .deb package. After the download has completed, you should be able to double click the .deb and then click on Install Package. The system will prompt you for your password and then the installation should start. If you'd prefer to use the command line for this task, open a terminal and change to the directory where the new .deb file is saved. Then enter the following command: (adjust this for the name of the .deb package you just downloaded.)
sudo dpkg -i avast4workstation_1.0.8-2_i386.deb
The next step is to register with avast!. To register, go to the avast! registration page and fill out the form. You'll get the registration code in your email. Go to your email to find your email from avast!. Next, open a terminal and enter the following command:
avastgui
A menu will pop up prompting you for your registration key. Paste the registration code from your email and click OK. You should now have the basic user interface available. The first thing to do is to click the button to update the virus database. Once the database update is complete you can select from the various options and run a scan.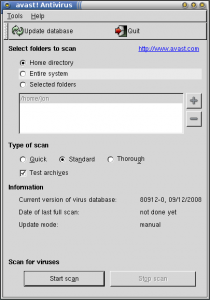 If you can't find the entry for avast! in your application menus, use the following terminal command to add the menu item:
sudo /usr/lib/avast4workstation/share/avast/desktop/install-desktop-entries.sh install
You should now have an entry under Applications -> Accessories -> avast! Antivirus.