I've been using my MSI Wind U100-432US for a few weeks now. If you're interested in my initial review, you can find it here. Shortly after getting this great small laptop I decided it was time to install Ubuntu. I decided to go for a Hardy install because of its Long Term Support status. I have several computers at home running Ubuntu and I'd rather not go through full distribution upgrades every six months on all of them to keep up with the latest releases.
As I mentioned in my initial review, the Wind hard drive is formatted with Windows XP on a 40 GB partition with the majority of the remaining space left as a D: drive for storage. This left a good place to install Ubuntu while still keeping a decent sized Windows installation.
Since the Wind doesn't have a built-in optical drive, to install Ubuntu you need either a USB CD drive to boot to the Ubuntu Live CD, or you can follow my instructions to create a bootable Ubuntu Live USB drive. Just make sure that you're using the latest Live CD iso image for Hardy (version 8.04.1). There's a bug in the initial 8.04 release that prevents it from booting on the Wind.
Once you have your bootable USB drive created, boot the computer to the USB drive and start the installation from the desktop in the Live CD (USB) desktop environment. When my installation got to the point of creating the drive partitions for Ubuntu, I chose to manually configure the partition table. I wanted to leave the Windows installation alone and put Ubuntu on what was the Windows D: drive.
I chose to edit the partitions in the following way. First I deleted the partition that's about 107 GB in size. This should show up as /dev/sda3. Then I created a primary partition of 10 GB, formatted as ext3, and mounted as /. This 10 GB partition should be big enough for your OS installation and lots of programs, as well as room for plenty of system updates. I then created an extended partition of about 95 GB, formatted as ext3 and mounted as /home. Lastly I set-up the remaining 1.5 GB as linux-swap. After all of this is configured, you should be set to go on with your installation. Here's a screen shot of GParted showing my partitions after the installation.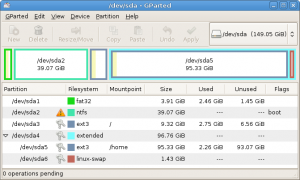 Once the installation is complete, there are lots of good tips for tweaking Ubuntu for the Wind on MsiWind.net. The most important of these tips is probably the section on Fixing Suspend & Hard Drive Clicking.
The next trick is to get the built-in wireless internet card working. The various Wind U100 configurations come with three different wireless internet cards depending upon the model. If you're not sure which wireless network card you have, check this PDF from MSI. Mine has the Ralink RT2700 chipset (actually shows up as rt2860 in my system). Ubuntu doesn't have drivers for this card in the repositories, so you have two choices to get this card working. The first option is to download the driver source package from Ralink's website and compile it for your system. The second option is to use the Windows driver through the ndiswrapper package. I was able to get the Linux driver to compile and got it working on my system, but there were still some issues with a small amount of constant network activity when I wasn't doing anything, so I'm using ndiswrapper right now.
I'm not going to go in depth right now on compiling the driver from source, but if you feel like getting into that, then make sure you have the build-essential and linux-headers packages installed on your system.
sudo apt-get install build-essential linux-headers-`uname -r`
To get the card working with the Windows driver then you'll need to install ndiswrapper. You'll need to connect to the internet through the wired connection to download the packages. Open a terminal and enter the following command.
sudo apt-get install ndisgtk ndiswrapper-common ndiswrapper-utils-1.9
Answer "yes" when prompted to install the package dependencies.
Prior to setting up the driver in ndiswrapper, you'll need to make sure the Windows partition is mounted so you can find the Windows wireless network drivers. You can do this with the Nautilus file manager. From the panel menu, select Places->Home. If the side pane is not enabled already, enable it with [F9]. Now just double click on the OS_Install partition in the side pane. The Windows partition is now mounted.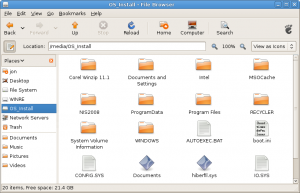 Once you're done installing ndiswrapper and have the Windows partition mounted, you can set up the driver by going to System->Administration->Windows Wireless Drivers. Enter your password at the prompt. Click the button to Install New Driver. The Select inf file window will come up. Browse to /media/OS_Install/WINDOWS/system32/DRVSTORE/rt2860_longstringofcharacters/rt2860.inf and click Open. Then click Install. You can now click Close in the Wireless Network Drivers window.
Your wireless network card is now ready to connect to the internet. Just make sure that it's turned on. The green LED should be lit by the icon that looks like a satellite dish (the second from the left). If the light's not on, hit [Fn]+[F11] until it turns on. You should be able to select a wireless network using the Network Manager in the panel. If you still can't see any networks, try the iwconfig command to make sure that the wlan0 device shows up. If it doesn't, try the following command.
sudo ifconfig wlan0 up
That's what it took to get my Wind working with Ubuntu Hardy. I'll be doing a post in the future about some tweaks to save power when you're running on battery. For a point of reference, I've been running for 2 hours on battery and I have 53% charge remaining. This is with the wireless internet card running.