Earlier today on PC World, Harry McCracken had a pair of articles titled "Eight Reasons Your Next Computer Should Be a PC" and "Eight Reasons Your Next Computer Should Be a Mac".
Well, since Harry didn't complete the series, I'll do it for him, so here we go.
Eight Reasons Your Next Computer Should Run Linux
Freedom of Choice
Linux distributions are available for several computer platforms, including most Macs and PC's. Find the computer you like best and install Linux. It's getting easier every day to find equipment from the OEM's that is compatible with Linux. Don't feel like doing the research or installing Linux yourself? You can find computers with Linux pre-installed from vendors such as System 76, Dell, and Hewlett Packard.
Stability
There's a reason the some of the Internet's biggest players, (like Google) base their infrastructure on Linux. Linux is known for rock solid stability. You won't ever see the Blue Screen Of Death unless you install the BSOD Screensaver.
Ease of Software Installation
The web is full of pages detailing how to install this app or that by compiling from source code. However, distributions like Ubuntu have huge software repositories that make installing software as simple as checking a box and clicking Apply Changes (as long as you're connected to the Internet.) There are thousands of programs available.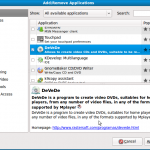 It Looks How You Want It To Look
Running OSX or Windows means that you'll be staring at the same basic look for the next three or four years. Sure, you can change the wallpaper or choose a slightly different theme, but the changes aren't very dramatic. With Linux there are several desktop managers and desktop environments to choose from. The big players are GNOME, KDE, and XFCE, but there are several other choices as well. You can tweak and modify the look to your heart's content. Heck, you can even make it look like Windows or OSX if you want to.
Lower Cost of Entry
In case you just woke up from a thirty year nap, I'm here to tell you that Linux is free.  Most Linux distributions (distros for short) can be downloaded for free off of the Internet. If you don't have broadband, Ubuntu will actually ship a CD to you for free. You can have a fully featured operating system with all the bells and whistles of Windows Vista Ultimate or OSX for the cool price of $0.
Free Support
There are hundreds of sites on the web, like your's truly, offering free Linux tips and howto's. One of best resources is the Ubuntu Forums. It's full of seasoned users willing to offer help. If you're a Gentoo or Slackware user, you certainly don't need me to tell you where to go for help.
Modest Hardware Requirements
Linux runs on some of the most meager hardware. It's the software backbone behind items ranging from routers to Tivo to the famous G1 phone. I have four computers at home that run Linux. With the exception of my MSI Wind netbook, they are all more than five years old. Linux runs great on all of them. My main desktop computer barely meets the requirements to run Windows Vista Home Basic, but it gives me no problems running Ubuntu 8.04 with full desktop effects.
Versatility
This goes along with number seven above. Linux is the operating system of choice for systems ranging from consumer routers to enterprise datacenters. However, I'm still waiting to see a working Linux version of the NetBSD Toaster.
Well, there you have it. There are tons of other reasons to use Linux. Leave a comment and let me know what I missed.
OK, maybe I didn't complete the series. Maybe one of you can pick up where I left off and write "Eight Reasons Your Next Computer Should Run BSD."