If you've got a netbook, then you're probably wishing you had a little more vertical room on your monitor. The default setup on GNOME includes two panels that take up valuable space at the top and bottom of your screen. Here's a few tips to free up some space on your GNOME Desktop layout.
Since I already mentioned the issue with the panels, I'll start with that. With a few tweaks, you can fit everything into a single panel. If you're using Ubuntu, the menu takes up a lot of space on the top panel. To free up some horizontal space, replace the customized Ubuntu menu with the standard GNOME menu.
To remove the Ubuntu menu from the panel, right click on it and select Remove From Panel.
To add the standard menu, right click on an empty spot in the panel and select Add to Panel.
Scroll down the list and select Main Menu and click the Add button.
The bottom GNOME panel has the Window List which takes up a lot of space. A more compact panel widget is Window Picker. If you don't like that one, there's also Window Selector which may be worth a try. Add one of these two to your top panel.
Other worthy items to add to the top panel are Workspace Switcher, Show Desktop, and Trash. You should now have everything that you need in the top panel.
You can delete the bottom panel by right clicking on it and selecting Delete This Panel.
Now if you really want to open up some more vertical space, move the panel from the top to one of the sides.
Right click on the panel and select Properties.
Change the Orientation to Left or Right.
A lot of the panel widgets don't adapt well to a side panel, but if you really want more vertical space, this is an option. A better option is to select Autohide in the Panel Properties menu. This will make the panel slide off the top of the screen. The panel will slide back down when you bring your pointer to the top of the screen.
Another way to save some screen space is to install a compact GNOME theme. A few worth trying are Human Ultracompact, Human Compact, and Dust-Compact.
Themes can be installed by opening your new Main Menu and selecting System->Preferences->Appearance.
Click the Install button and open your downloaded theme file.
Human Compact and Dust-Compact are full themes and can be selected from the Theme tab. To use Human Ultracompact click Customize and select human_ultracompact in the Controls tab.
Here's a screen shot of my desktop after the changes.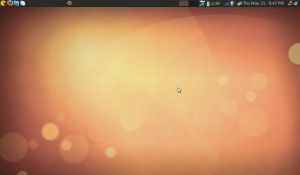 Do you have some more space saving tips? Leave a comment.