In Part 1 of How To Install WordPress on Ubuntu I showed you some of the steps required to get Ubuntu ready for a fresh installation of WordPress to use for web development. In Part 2 I'll go through the steps of installing WordPress itself.
First, you need to download the latest version of WordPress. As of this writing, the latest is version 2.8.6. 
Extract the archive to your intended directory. In my case, I'm putting the files into ~/webdev/site1. This will create a wordpress sub-directory. Cut all of the files from the wordpress directory and paste them into the parent directory (~/webdev/site1). Go ahead and delete the wordpress directory, you don't need it any more. If you have an index.html file, delete it or rename it to something like index.html.bak.
Now you'll need to create a new mySQL database for WordPress to use. This is easy to do through phpMyAdmin. Enter http://localhost/phpmyadmin/ into your web browser address bar and log in to phpMyAdmin as root.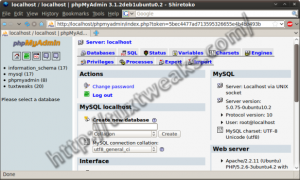 Next, we're going to create a new user and database.
Click on the Privileges tab in phpMyAdmin.
Within this tab, click on Add a new user.
Enter a user name and password in the required fields.
Click the radio button for Create database with same name and grant all privileges.
Finally, hit the Go button at the bottom of the page.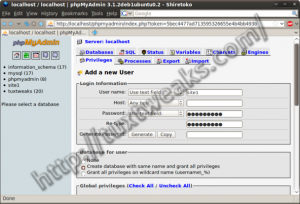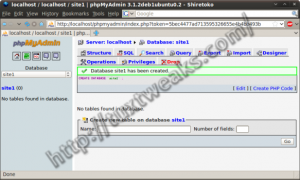 You're now ready to start the WordPress installation. Point your browser to your new website (http://site1/ in my case).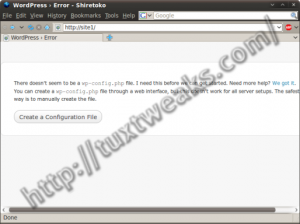 Click on Create a Configuration File.
You'll see a page describing the upcoming steps. Click on Let's go!
Enter the database name, user name, and password that you created earlier.
Click Submit.
You'll see a page saying WordPress is able to talk to your database.

WordPress install step 4

Click on Run the install.

WordPress will ask for a blog title and email address. Enter what you want at this step. You can enter any email address, it doesn't really matter for a local install. You can also uncheck the box for allowing search engines to crawl your site. This is a local installation, so they can't see your site anyway.

WordPress install step 5

Click on Install WordPress.

If the install worked, you should see a page showing the username admin and a randomly generated password.

WordPress install step 6

Write down the password and click the Log In button.

Log in to WordPress.
Enter a new password that you can remember and click Update Profile.
Congratulations! You've just installed WordPress on Ubuntu.