Presto is a fast boot Linux operating system from Xandros. It provides one of the easiest ways to dual boot Windows with Linux. Presto is intended to be a complement to Microsoft Windows rather than a replacement. What makes Presto a bit of an oddball in the Linux world is than it can only be installed in Windows XP or Vista. It requires an NTFS partition and automatically creates an entry in the Windows boot loader upon installation. There is no way to install it without having Windows on your PC first.
Presto is free to try. A full license will cost you $19.95 USD. The system will nag you to purchase a license each time you start it up. If you don't activate your copy within 7 days, then the OS will automatically shut down after 10 minutes of use.
You can download the Presto Windows installer from CNET, or there is a torrent available if you choose. I downloaded the torrent - which was really more of a trickle. Once you have the 463 MB .exe file you can install it from Windows with the usual procedure. I'd estimate that it took about 5 minutes to install on my MSI Wind. After it's done, just reboot and select Presto from the Windows boot menu. (My machine was already dual booting XP and Ubuntu Jaunty. I selected Windows from the GRUB menu and then was presented with the Windows boot menu to select Presto.)
The first time you boot Presto it will take a few minutes to detect and configure your hardware. After that it boots very fast. From the time I select Presto from the Windows boot menu it takes about 8 seconds until I see the Presto desktop which uses the Xfce desktop environment. After a total of about 15 seconds all of the system tray icons have appeared and the system is ready to go.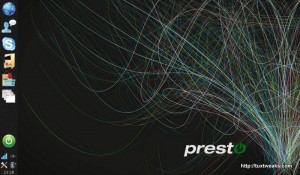 The launchers on the panel are:
Mozilla Firefox web browser
Pidgin instant messenger
Skype internet telephone
Thunar file manager
Presto Application Store
Window List - a compact display of your open applications
Notice there is no terminal window there. Not to worry. You can launch a terminal window by pressing [Ctrl][Alt][T].
The Presto Application Store is where you will find any additionally installed programs. It's also where you can go to purchase a license for your Presto installation, or to download and install more applications. By default, OpenOffice and RealPlayer are already installed.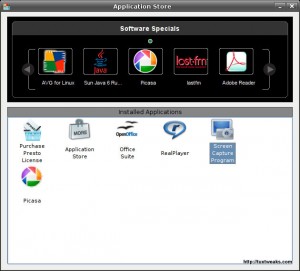 Clicking the Application Store icon will take you to http://presto.cnr.com/. This website works using the Click-N-Run technology that Xandros picked up when they purchased Linspire. Find the application you want to install, click the install button, and the installation file will download and begin the installation. Click through a few prompts and your new application is installed. It's as easy or easier than installing programs in Windows. Once installed, the program can be launched form the Application Store menu. In the above picture you can see that I've alerady installed the Ksnapshot Screen Capture program and Google's Picasa.
One thing I like about the way Presto has been set up is that the launch panel has been set up to be on the side of the screen rather than at the top or bottom. Finally someone has recognized that our screens are getting wider, not taller. You can move the panel to another location if you want, but I think the default location is good. If you have a small netbook screen you may want to configure the panel to autohide.
Another thing that I found to be impressive is that Presto recognized and automatically configured my Ralink RT2700 wireless card. This is something that takes some work to get running in Ubuntu, so I was quite pleased to get right on the internet without having to plug in to a wired connection to find wireless drivers.
One more item that really impresses is how fst the system shuts down. Click the green power button icon and select Shut Down and your computer is completely powered down in under five seconds.
Pros
Easy to install.
Boots up fast.
Shuts down very fast.
Easy to install additional software.
MP3's and Flash content play without additional software install.
Recognized and configured my RT2700 wifi card automatically.
Did I mention it's fast?
Cons
I've told you about some of the great things that Presto has to offer, so here are some things I didn't like.
gcc is not installed. You may be able to download a Debian package and get it installed with dpkg. This may make custom compiling packages particularly challenging.
There are a large number of applications available in the Application Store, but it's not nearly as exhaustive as the Debian or Ubuntu repositories.
There is no simple way to choose a different wallpaper.
The function buttons on my MSI Wind do not work for adjusting sound volume or screen brightness.
Only installs on Windows on an NTFS partition.
Is Presto right for you? If you have Windows XP or Vista on your computer it may be. Download it and give it a try to find out. $19.95 seems like a pretty reasonable price for a very well featured operating system. If your laptop didn't come with one of the new hardware based, embedded Linux quick boot options like Splashtop, then Presto is certainly a good option. If you're the type who enjoys constantly tweaking with your system, then this might not be right for you. Then again, it might be interesting to really dig in to the inner workings of this OS. I suspect that some of the limitations imposed on Presto are there to push users toward the more feature complete Xandros distribution.
Do you know of another fast boot Linux worth checking out? Especially one that doesn't require you to have Windows installed? Leave a commment and let everyone know about it.