On May 23, 2012, Linux Mint 13 "Maya" was released. There are two desktop flavors available, the MATE Edition and the Cinnamon Edition. MATE is a fork of the GNOME 2 desktop since the GNOME project has abandoned GNOME 2 in order to work on GNOME 3 development. Cinnamon is a project started by Linux Mint in order to include a classic GNOME 2 style interface in a GNOME 3 environment. Both of these flavors are available in 32 bit and 64 bit versions. 
For this review, I chose to install the 32 bit Cinnamon version on my MSI Wind U100 netbook. This replaced my previous Ubuntu 10.10 install, but I retained my previous /home partition. Upon my first attempt to log in, I got an error message telling me that my preferred session, (gnome.desktop) was not available. After going back and selecting "Cinnamon" as my desktop, I was able to log in to the desktop. I was greeted with the standart Linux Mint welcome screen.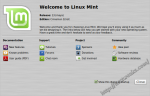 After knocking that screen down, the files and folders I'd had on the desktop previously were still there. However, some lauchers I'd had on the desktop were gone. It's not surprising since I'm now using a different desktop environment.
Hardware Detection
Upon logging in, I was pleasantly surprised to see that not only was my wifi properly detected, but the system had remembered the wifi password I'd entered in the Live CD mode prior to installation.
The multimedia keys on my netbook worked as expected and the touchpad worked properly.
Upon unplugging the power cord, the system properly detected the event and provided a reasonable prediction of battery life remaining. This is in contrast to some previous versions of Ubuntu that had an annoying bug which would improperly predict very low battery life and throw up a warning threatening to shut down the system.
Suspend to RAM
The suspend key on my keyboard worked properly and my netbook went into suspend. Unfortunately when I resumed the system, my wifi Internet connection was not longer working. It ended up taking a reboot to fix it. Luckily, this issue is easy to fix. One simple command in the terminal was all it took to fix the issue.

sudo touch /etc/pm/power.d/wireless
After using that command, my netbook now properly suspends and resumes.
System Updates
The notifier in the system tray indicated that there were 91 recommended updates available for download. I was a bit surprised by this since I installed this distro on the same day it was released. I suspect that the release candidate that was put out was deemed to be stable and thus was released as the official version. Clicking the Update Indicator in the system tray brought up the Update Manager.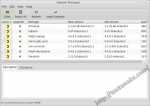 The suggested updates were already selected for download and all it took was a click of the Install Updates button to get the process going. I was the able to go about my business. It took a few minutes to download and install the updates. I did experience one momentary graphics glitch while the updates were installing. The entire screen flickered and then only the desktop wallpaper was visible. After about 30 seconds, the screen flickered again and all of my previous applications were back.
System Menus
I did experience some issues with the system menus. This had to do with the defaults files that were in my existing home directory. Some of the applications from my previous Ubuntu installation were on the menu, but the applications were not actually there. After moving all of the old hidden defaults files and folders to a backup directory and rebooting, the problem was resolved.
Default Software
Mint 13 Cinnamon includes most of the applications you would expect from a GNOME 3 based installation. Since the developers have chosen to use a DVD image for the the distribution, they were not limited by a CD's smaller capacity.
Accessories
Many of the standard utilities you've come to expect are included in Mint 13 Cinnamon. There's an Archive Manager, calculator, text editor, and terminal emulator amoung other standard items.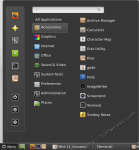 Graphics
Applications are installed for image viewing and editing (including GIMP). There is also an application to run your scanner. I was also pleasantly surprised to find my favorite command line image editor, Image Magick, was already installed.
Internet
Firefox and Thunderbird are installed as the default web browser and email client respectively. Transmission is provided for Bittorrent downloads. Pidgin is installed for instant messaging and xChat is there for your IRC needs.
Office
The Libre Office Suite is installed for document authoring and editing. This includes applications for word processing, spreadsheets, slide shows, databases, and drawing.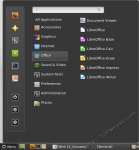 Multimedia
One of the well known features of Linux Mint is that codecs for most popular media formats are pre-installed. That means you won't have to go scouring the internet for instructions on how to listen to your MP3 collection or how to watch a DVD. Several media players are installed by default. Audio and video may be played in GNOME MPlayer, the Totem Movie Player, and the ever popular VLC Media Player. Banshee is included to manage and enjoy your music collection and also includes integration with the Amazon MP3 Store if you'd like to purchase music. I presume that the Mint team has an agreement with Amazon and that a portion of the profits go to support Mint development.
The multimedia category is rounded out by Brasero for burning and copying optical discs and GNOME Sound Recorder for creating your own audio files. I was a little surprised to find that Audacity was not included among the preinstalled software.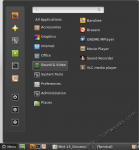 System Tools, Preferences and Administration
There are several tools for setting user preferences and for system administration. Of note are applications for configuring the firewall and for performing backups. For finding and installing new software there is Software Manager. If you're a long time Debian or Ubuntu user, Synaptic is also installed for package management. And of course there's also the Update Manager that I mentioned above.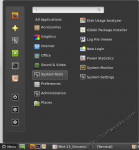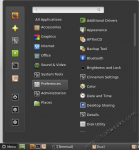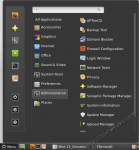 Conclusions
I found the Cinnamon menu system to be a bit slow on the modest hardware of my netbook. However, when running Mint 13 Cinnamon on a virtual machine on my more powerfull desktop computer, I did not experience this sluggishness. If I had taken the time to read the "What's New" documentation beforehand, I would have opted for the version with the MATE desktop rather than Cinnamon. I plan to reinstall with the MATE version and give that a try.
In my previous trial of Linux Mint, I found that there were just a few bugs that made me uncomfortable with recommending it to a new Linux user. That is no longer the case. I find Mint 13 to be a very polished and complete Linux distribution. I love that it has much of the software that I want already installed, so it's pretty much install and go for me. Ubuntu has increasingly become more of a chore to get it set up how I want with each new release, so I'm strongly considering making the change to Mint 13 as my main OS. Since it is derived from Ubuntu 12.04 LTS, Mint 13 will be supported until April 2017.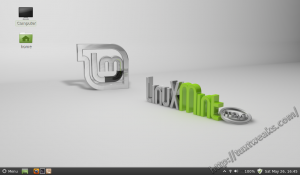 If you've become alienated or frustrated with the changes to the user interface in Ubuntu, I strongly suggest you give Mint 13 a try in either its MATE or Cinnamon editions. In my experience it offers a clean, polished, traditional, desktop experience.