Linux Mint 15 "Olivia" is a Linux distribution based on Ubuntu Linux 13.04. Mint is intended to be easy to install and easy to use for desktop users who prefer a traditional desktop layout. It is available in for both 32 bit and 64 bit Intel architectures. It's also available with two different desktops; the MATE desktop which is a fork of the GNOME 2 series, and the Cinnamon desktop which is based on GNOME 3 and is a fork of GNOME shell to give it a more traditional desktop layout. For this review I'm running the 64 bit Cinnamon edition on my desktop PC with an Intel Core i5 2500k CPU.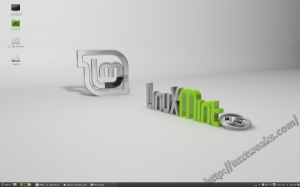 First Impressions
Downloading the 64 bit Cinnamon Edition DVD took about 35 minutes for me over bittorrent. After creating a bootable USB stick, I booted into the Linux Mint 15 Live environment and after a short time exploring the system, I chose to go ahead with the installation. Install time was quite fast and within about 10 minutes I was prompted to reboot the system.
On the first boot I was quite impressed with how fast the system started up. I didn't time the first boot, but subsequent boots on my system take about 30 seconds from the boot loader to the log-in screen. After logging in to the system the desktop loaded up and I was shown the Mint Welcome Screen. This is a feature I've come to expect of Linux Mint and provides links to useful documentation and tutorials about the release.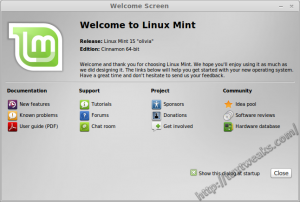 System Updates
Taking a look around I noticed the Update Manager notifier in the System Tray telling me that there were 30 updates available to install. Clicking on the Update notifier launched mintUpdate and downloading the updates took less than a minute. Installing them all took only an additional 30 seconds. With my system up to date I was on my way.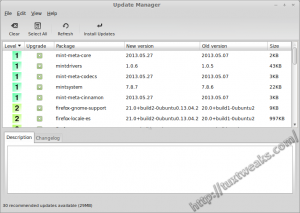 Screen Layout
The default screen layout for Linux Mint 15 is a traditional desktop setup. There is a panel at the bottom of the screen that features the main menu at the leftmost side followed by some quick launch icons and then the window list. The far right side holds the System Tray with network and sound controls followed by the clock/calendar and finally a window quick switcher.
Linux Mint 15 automatically detected my monitor and set the screen resolution to my monitor's native resolution.
Hardware Detection
All of my computer's hardware was properly detected and worked on the initial boot. My Nvidia graphics card was detected and the open source Nouveau graphics driver was loaded by default. This allowed for a pleasant boot animation experience showing the Linux Mint logo. Unfortunately, Nouveau suffers compared to the proprietary Nvidia driver when it comes to displaying 3D content. The Linux Mint 15 Driver Manager makes installing the Nvidia driver a snap. Go to the Menu->Preferences->Driver Manager and select the new driver you want to use. Then click on Apply Changes and the system will download and install the selected driver. Once the process completes you are running the new video driver. No need to reboot.
This is an awesome step forward in video driver management. Most distros tell the user to reboot in order for the new driver to work. If you were handy with the command line you could kill the X Server, remove the kernel module for the old video driver, add the kernel module for the new driver, then restart X and you were back in business without a reboot. All of that is gone with the new Driver Manager. Bravo to the Linux Mint developers!
My wired network card was properly detected and worked without any additional configuration as well as sound and the multimedia keys on my keyboard. Setting up my HP printer was as simple as going to System Settings->Printers and clicking on Add. From that point I just selected the printer from the list and clicked Forward. I was then given an option to provide a name and a location for the printer. With that done, I clicked Apply and then was given an option to print a test page. Done. Rarely is it this easy to install a printer on a proprietary operating system.
Media Formats
Perhaps the thing that Linux Mint was best know for in its earlier days was that it ships with codecs for proprietary media formats by default. That means the whether you click on a sound file in an open format like FLAC or Ogg Vorbis or one in a proprietary format like MP3, the file will play. The same is true for video files. Linux Mint 15 was able to play any video file I threw at it.
Installed Software
Linux Mint 15 comes with a broad selection of software pre-installed on the system. For Internet we find Mozilla Firefox for web browsing and Mozilla Thunderbird for email. We also find the Transmission bittorrent client, Pidgin instant messenger and XChat for Internet Relay Chat communications.
In the Office menu we find that the Libre Office Suite is installed along with the Evince document viewer for handling PDF's and Postscript files.
In the Graphics area you will find the GIMP Image Editor, gThumb, and the GNOME Image Viewer for handling photos and images. Simple Scan is also included in this section for image and document scanning.
Under the Sound & Video section you'll find Banshee for managing you music library, however double clicking a music file will launch it into the Totem Video Player instead. This section also includes the aforementioned Totem under the label of Videos, as well as the VLC media player for playing music and videos, and finally, Brasero for copying, authoring, and burning CD's and DVD's. I inserted an encrypted DVD and initially had difficulty getting it to play. I eventually had success with VLC, but I was not able to get it to play in Totem. I installed the Xine media player and it played my DVD without a problem.
In the Accessories section you'll find a collection of miscellaneous tools. You'll find an archive manager, calculator, the gedit text editor, and the obligatory terminal emulator. You'll also find the Nemo file manager in this section. Nemo is Linux Mint's fork of the Nautilus file manager. The reason I mention this is that Linux Mint 15 introduces a new feature for Nemo; Nemo Actions. If you've been a GNOME user you may be familiar with the Nautilus add-on called Nautilus Actions. Well, Nemo has now included similar functionality into the base build. You don't need to add a package to use Nemo Actions, it's already there. Right now there's no graphical configuration tool for Nemo Actions, but it's not too hard to edit the well documented example file to create your own action.
The Administration menu contains items to control your system and to keep it up to date. It contains mintBackup for creating and restoring backups of either files or installed software. There's the mintNanny Domain Blocker if you want to restrict access to certain websites. And there's also Gufw for configuring Uncomplicated Firewall. For package management you'll find Software Manager which is a category based package manager, as well as the more powerful Synaptic Package Manager. You'll also find the Update Manager in this section. Of course you can also handle package management from the command line with apt-get and the aptitude package manager is also available.
System Settings
Linux Mint 15 now has all system configuration items included in the System Settings tool. In this section you'll find items for Appearance, Preferences, and Hardware. By default the tool comes up in Normal Mode which limits the selections to the more basic items. You can switch it to Advanced Mode and some additional items appear for further customization if you choose.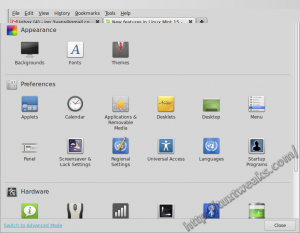 One little thing I noticed, I don't know if I'd call it a bug or not, but in Regional Settings I had United States (English) selected. It showed times displayed in a format I'm comfortable with, but those settings did not affect the way the clock in the system tray displayed. I had to go into the Calendar settings and manually set the date format for the panel to show in the format that I wanted.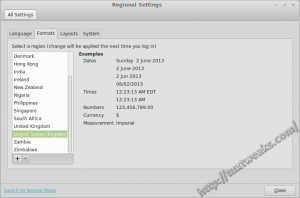 Another problem that I encountered was that none of my other disks or partitions appeared available to mount through the file manager. When insterting a USB drive, there was no apparent change shown. A quick check with

sudo blkid
showed that the core system did indeed see the other disks and partitions. I tried installing the
pmount
package, but that didn't seem to make any difference. I then decided to reboot the machine with a USB stick plugged in. This time when I logged into the desktop, I could see the USB drive as well as all of my other drive partitions on my system.
Games
Linux Mint 15 Cinnamon did not include any games in the default installation. There's no need to worry if you're a gamer though. There are 1883 packages listed in the Games section of the Software Manager.
Power Management
My system was able to resume from both Suspend and Hibernate states without any issues. Resuming from Suspend took about 10 seconds while resuming from Hibernate took a little longer at about 25 seconds from the GRUB boot menu to a working desktop.
Conclusions
I enjoyed the time I spent using Linux Mint 15 Cinnamon. The Mint development team is doing a great job with modifying and adding to GNOME 3 to make it a familiar and productive environment for those of us who prefer a more traditional desktop layout. The default theme is sleek and attractive, however some of the icons depart a bit from the norm and it takes a while to get accustomed to them. I found myself taking the time to wait for the mouse-over text to pop up many times to make sure I was on the right one. The save icon was the prime example of this for me. This icon is a simple rectangle next to an arrow pointing down. I'm not saying this is bad, I've just come to expect Save to always look like a 3.5 inch floppy disk from days of old.
Overall Mint 15 is a polished, smooth, and fast desktop Linux distribution. It is quite possibly the best desktop Linux distro available at this time and can easily go up against offerings from Apple and Microsoft. Desktop Linux in general still struggles against it proprietary rivals when it comes to software availability, but that is starting to change with companies like Adobe shifting major software packages to cloud based services.
I've been using Kubuntu 12.04 recently as my main desktop OS, but from what I've seen from Mint 15 Cinnamon I think it's time to make a change.
Have you given Mint 15 a try yet? What did you think?